[caption id="" align="alignnone" width="387"]
Stanley Steemer recommends to vacuum your room or commercial site carpet before steam carpet cleaning.[/caption]
1. Keep your home looking fresh and improve your indoor air quality
A clean home is a happy home, and one of the most critical aspects of maintaining a clean environment is ensuring that your carpets are well-tended. This article will cover everything you need to know about professional carpet cleaning service near you and how to choose the best carpet cleaning company for your needs.
2. The Importance of Carpet Cleaning
Regular carpet cleaning service is essential for several reasons. First, it helps remove dirt, grime, and tough stains that can accumulate over time. Furthermore, it can eliminate common household allergens, such as dust mites, pet dander, pet stains, and pollen, improving your indoor air quality. Lastly, cleaning your carpets professionally can extend their lifespan, ensuring that they look and feel great for years to come.
3. Choosing the Right Carpet Cleaning Company
With so many carpet cleaning companies to choose from, it's crucial to find one that meets your specific needs. Here are some factors to consider: - Reputation: Look for carpet cleaning companies with positive reviews and a history of satisfied customers. - Service offerings: Some companies specialize in steam carpet cleaning, while others use hot water extraction or chem-dry methods. Make sure the company you choose offers the services you require. - Professional certifications: Seek companies with industry certifications, such as those from the Institute of Inspection, Cleaning, and Restoration Certification (IICRC). - Eco-friendliness: If you're concerned about the environment or have pets and children, find a company that uses non-toxic cleaning solutions and avoids harsh chemicals.
4. The Carpet Cleaning Process
Most professional carpet cleaning services follow a similar process, which typically includes the following steps:
1. Pre-inspection: The service technician will inspect your carpets, identifying problem areas and discussing your concerns.
2. Furniture moving: Most furniture will be moved to ensure thorough cleaning. Shoe coverings may be worn by technicians to avoid tracking dirt.
3. Vacuuming: This essential step helps remove loose dirt and debris from the carpet's surface.
4. Pre-treatment: A cleaning solution is applied to break down stains and loosen embedded dirt.
5. Extraction: Hot water extraction or steam cleaning process, the most popular carpet cleaning service, is used to flush out dirt and cleaning solution from the carpet fibers.
6. Drying: High-velocity air movers are placed to help dry the carpet quickly and avoid dampness.
[caption id="" align="alignleft" width="301"]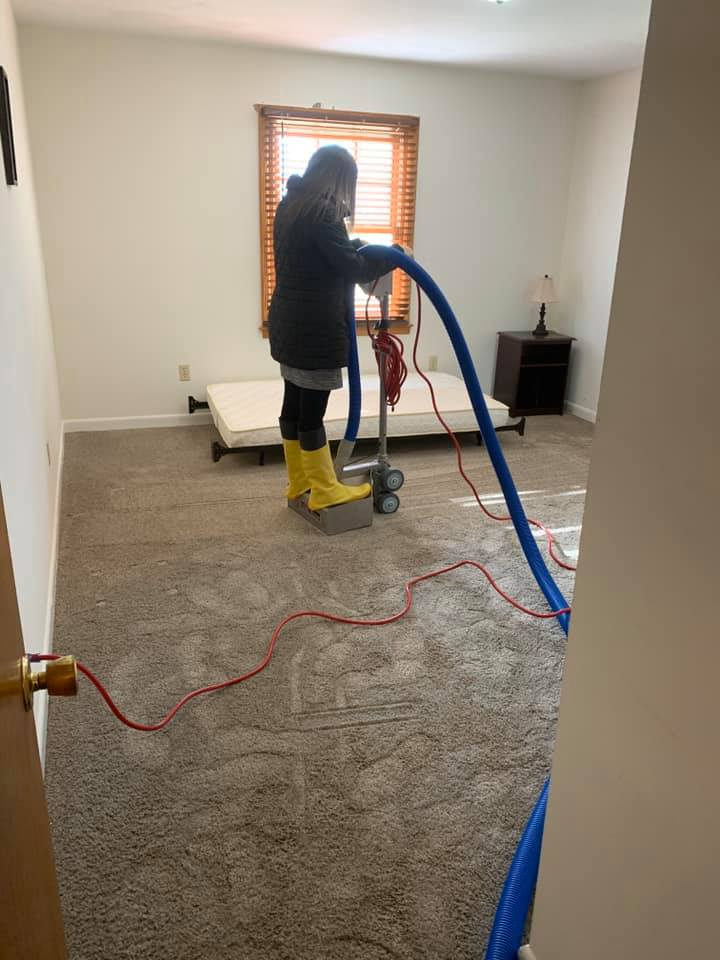 The best carpet cleaning service can dry damp carpet, get out pet stains and odors.[/caption]
5. Hot Water Extraction vs. Steam Cleaning
Hot water extraction and steam cleaning are two popular deep clean methods used by carpet cleaning companies. Hot water extraction uses heated water mixed with a cleaning solution, which is then injected into the carpet fibers at high pressure. The water and solution are then extracted, taking dirt and grime with them. Steam cleaning, on the other hand, uses vaporized water to loosen dirt and stains from the carpet fibers. Both methods are effective, but hot water steam extraction is generally considered more thorough and better at removing deep-seated dirt.
6. The Benefits of Chem-Dry Carpet Cleaning
Chem-Dry is a unique carpet cleaning process that uses carbonation to lift dirt and stains from your carpet fibers. The chem-dry method is known for its fast drying time, which can be as short as 1-2 hours, and its ability to leave carpets looking cleaner for longer. Chem-Dry is also an eco-friendly option, as it uses non-toxic, green-certified cleaning solutions. Chem-dry avoids harsh chemicals. However, today there are many other companies that also use eco-friendly green cleaners.
7. Caring for Your Carpets Between Cleanings
To maintain a clean and healthy home, it's essential to care for your carpets between professional cleanings. Here are some tips for a longer lasting clean carpet: - Vacuum regularly: Frequent vacuuming helps remove the dirt, and allergens from your carpet's surface. - Act quickly on spills: When accidents happen, clean up spills immediately to prevent stains from setting in. - Use doormats: Placing doormats at all entrances to your home can help prevent dirt and grime from being tracked onto your carpets. - Address pet accidents: Clean up pet accidents promptly and treat the area with a specialized cleaning solution to neutralize odors and prevent stains. - Rotate area rugs & carpet: Rotating your area rugs occasionally can help distribute wear and tear more evenly.
8. Dealing with Tough Stains and Odors
Some stains and odors can be challenging to remove, even with professional cleaning. In these cases, consider using a spot remover or specialized cleaning solutions designed for the specific stain. For persistent odors and pet stains, a deep clean odor-neutralizing treatment or deodorizer may be necessary.
9. The Benefits of a Professional Carpet Cleaner
Professional carpet cleaning provides several advantages over DIY methods. These include: - Deeper clean: Advanced equipment and specialized cleaning solutions ensure a more thorough cleaning process than most consumer-grade products. - Faster drying time: Professional carpet cleaning companies use high-powered equipment to extract water, resulting in shorter dry time to completely dry and less risk of damp carpet or mold growth. - Expertise: Professional carpet cleaners have the knowledge and experience to address unique carpet fibers, stains, and cleaning challenges effectively leaving clean carpet. The IICRC rug institute recommends the carpet dries within 2-4 hours.
10. Indoor Air Quality and Carpet Cleaning
Regular carpet cleaning is crucial for maintaining good indoor air quality. Carpets can harbor allergens, dust, and other contaminants that can negatively impact the air you breathe. A professional cleaning service can help remove these contaminants, providing a healthier home environment. [caption id="attachment_586" align="alignnone" width="300"]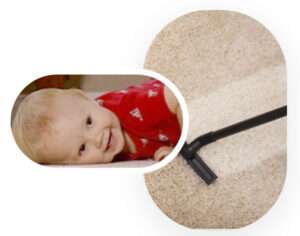 NOVA Rugs Carpet Cleaning Falls Church, VA[/caption]
11. Additional Services Offered by Carpet Cleaning Companies
Many carpet cleaning companies offer additional services to improve your home's cleanliness and air quality. These services may include: - Tile floor cleaning: Thoroughly cleaning your tile floors can help maintain a clean, fresh appearance and reduce grime buildup. - Clean air ducts: Regular air duct cleaning can help remove dust and allergens, improving your home's air quality. - Upholstery cleaning: Professional upholstery cleaning can remove dirt, stains, and odors from your furniture, keeping it looking and smelling fresh. - Water damage cleaners: The best carpet remediation technicians dry out carpets to make sure you have a healthier home. They extract water and increase airflow to your carpet in the room that got wet.
12. How Often Should You Have The Carpets Cleaned?
Carpet manufacturers recommend having most carpets professionally cleaned by professional carpet cleaners at least once every 12 to 18 months to be completely safe. However, factors such as the number of occupants, pets, and the presence of allergy sufferers can impact how often you should clean your carpets. High-traffic areas may require more frequent cleanings to maintain appearance and indoor air quality.
13. Enjoy Your Home
Investing in professional carpet cleaning services near you can make a significant difference in your home's cleanliness, air quality, and overall appearance. By choosing the right carpet cleaning company and following the tips outlined in this article, you can ensure that your carpets stay looking and feeling their best for years to come. With clean carpet, you and your family can enjoy a healthier, more comfortable living environment. Call
NOVA Rugs Carpet Cleaning Falls Church
at 703-349-5745 today for $25 off professional carpet cleaning services. Refer to this article for your savings.