How To D.I.Y. Grout Cleaning

If you've got stained grout or a greasy surface on your tile floors, you need a deep cleaning tile grout cleaning solution. Clean-eez is a proven two-in-one solution that works to remove dirt, grease and stains from top layer of ceramic tiles. It can also remove foul odors from the grout line. Keep in mind tile and grout are porous surfaces, as such they are susceptible to dirt, grime, mold and mildew. Regular cleaning and mopping with warm water is a necessity.
Tile and grout cleaning
When it comes to tile grout cleaners, there are a few things you should look for to best clean grout. You want a specific cleaner that will be gentle on your tile, but that is still strong enough to clean tough staining from the grout lines. If you have porcelain or concrete tile, you should consider the Bio-Enzymatic cleaner, which is acid-free and non-toxic. Steam can also be a great tool, as it can remove stains and kill bacteria. It is easy to use, and it can be used on any type of tile. The Simple Green Floor Cleaner is a green-friendly option, since it doesn't leave any residue behind. It is also safe to use around children. It is also Greenguard Gold-certified and does not emit any dangerous VOCs. However, it may leave staining on grout lines, and it can cause discoloration on natural stone and hardwood floors. A good way to keep tile surfaces looking great is to vacuum frequently and steam them every once in a while. Vacuuming first will remove loose dirt and other debris. This will prevent the floor from becoming a sponge, which can cause discoloration. Lastly, mopping can be a great way to remove staining and grime. However, it is important to remember to use clean water and to rinse the mop head frequently.
Best grout cleaners
These tile cleaning solutions are safe for use on grout, tile, and natural stone floors. They contain low pH levels and no VOCs. While they need a bit of elbow grease to scrub the grout, they are gentle on flooring. Some of these products also have a nice smell. However, not all of them are the right cleaning solution for every type of flooring and tiled surfaces. If you have a ceramic or porcelain floor, you should consider a steam cleaner. These are more expensive, but they come with features like HEPA filters and wet-dry vacuuming. Moreover, they reduce the cleaning time. They work on any type of tile, but they are especially beneficial for marble and granite surfaces. The steam doesn't damage the surface, and they can deep clean up grime from foot traffic that would otherwise remain on the floor surface. There are many types of tile cleaners on the market. While a basic vacuum will remove some dirt and debris from tile floors, a professional tile floor cleaner will sanitize the floor and make it look brand new again. If you're looking for a more comprehensive solution, the Bissell Crosswave Max is one of the top options. It can clean both hard floors and carpets, and it can pick up both wet and dry debris. For best results use a grout cleaning brush with all these methods.
Professional tile and grout cleaning process
A good grout cleaning tile floor cleaner can help you get rid of staining and restore the shine of your tile surfaces. You can use a mop and bucket to get rid of surface dirt, but if you want to get a more thorough cleaning, you should invest in a machine. A good machine can do the cleaning job and sanitize your hard surfaces without having to scrub. One way to clean your tile surfaces is to sweep and vacuum them daily. It's also important to spot clean your grout every few months. Vinegar is not harmful, but it is acidic and may eat away at the grout and tile. To avoid this problem, it's a good idea to use a tile cleaning machine with a dry buffing pad. Another way to clean your tile flooring is to use a paste made of baking soda and a cleaning agent. Leave this paste on for at least 24 hours. Another type of machine that cleans tile floors is a steam cleaning machine. These tile cleaners are best for removing dirt from grouts and tile surfaces with hot water. They are also great for a bathroom, where soap scum and mold can build up over time. You can also use a steam cleaning machine on countertops and backsplashes to remove bad stains.
stained grout cleaning method
When you have staining on your grout, you'll want to use a floor cleaner that doesn't leave a residue. Luckily, there are a few options that work great to remove stains from grout. The Simple Green grout cleaner is available in a one-gallon and four-gallon container. This product is effective and requires little scrubbing, but is strong enough to clean a lot of grout. It can be used both in residential and commercial settings. A vinegar-water solution will clean your grout. Another option is baking soda, which has a mild abrasive effect. Combine this with water to create a thick paste. If you use too much, you'll risk damaging the grout. Make sure to rinse thoroughly afterward. Depending on how much traffic your tiles get, you may want to use a grout sealer. This will prevent dirt from penetrating the grout, making it easier to clean. Depending on how dirty your grout is, you can use a grout cleaner every few weeks or once a year. However, if you have extremely dark grout, you might need to use a deeper cleaning solution.
colored grout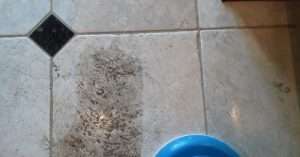 Colored grout cleaners are now available in water-based formulas. These cleaners come in a one-quart, one-gallon, or four-gallon size, and they require little scrubbing to work. You can use a brush or sponge to apply them. You can even buy a grout sealer to match the grout color in your tile. The best way to prevent dirt from getting into your grout is to clean it regularly. If you don't, dirt can build up and cause discoloration. Before cleaning your grout, make sure you sweep or vacuum the entire floor to remove any loose dirt and dust. A good grout cleaner should be able to remove stubborn stains. These cleaners should be made of biodegradable ingredients and won't damage the sealant on your tiles. They should also be safe for you and your family to use.
Sealing porous surfaces includes grout
Most grout cleaners will not seal the grout. If you have sealed grout and want a cleaner that can remove all traces of grout staining, you can try Zep grout cleaner. It has an acidic formula that will clean grout without requiring to scrub on your hands and knees. It is safe for colorized grout and tile. You can also use it on countertops. The best tile floor cleaners are designed to be gentle on tile floors and restore the shine and color. They must also have the ability to reach and remove accumulated dirt and grime. In addition, they must be able to reach grout and get deep into the pores. This tile floor cleaner can remove mold and mildew stains and common dirt from hard water and soap scum. The formula is certified safe by the U.S. Environmental Protection Agency, and it contains benzenesulfonic acid sodium salts and an alcohol-based fragrance. If you're sensitive to fragrances, you should avoid using this product.
grout professional cleaning service
Tile floor cleaners are important for a variety of reasons. While steam cleaning can remove dirt and grease, it is also helpful in killing bacteria and removing stains. Tile floor cleaners can also be helpful if you have children or pets, since they are nontoxic. When choosing a professional grout cleaning service, look for a cleaner that is certified by a the IIRC (Institute of Inspection Cleaning and Restortion Certified Cleaning). You should also avoid concentrated cleaning solutions because they can damage your tiles and grout. Tilex Grout Cleaner and Brightener is a simple yet effective tile floor cleaner that doesn't require any special tools. The liquid formula is easy to apply and contains double-release technology that lifts stains without heavy scrubbing. This product is safe for use on both colored and white grout lines. It also has a pleasant scent, so you don't have to worry about putting your family at risk by using it on your tiles. A floor cleaner that specializes in tile and grout cleaning is another option to consider. A floor cleaning machine that is suited to tile and grout will not only clean the tiles and grout, but it will also sanitize the grout and restore the shine of your floors.